Simplicity still exists with the Sanyo Vero for Sprint
3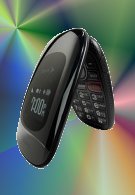 Simplicity with a handset doesn't always necessarily mean some kind of boring entry-level device that doesn't command an appealing exterior. In fact, it could most likely relate to some strong core functions of a handset that can substantially prove to be compelling in light of its siding to being a basic phone.
Sprint announced today the Sanyo Vero which is an inexpensive feature phone priced as $9.99 with your signature on a 2-year agreement. Positioned to go on sale October 10th, the Vero features some surprisingly nice features that should capture the interest of some people. It includes a
2.4
" internal QVGA display,
1.3
" external OLED glow-thru display, 1.3-megapixel camera, aGPS, and a battery which is rated for 5.2 hours of talk. With some intriguing features in tow with the Vero, its $9.99 on-contract figure is sure to catch the gaze of some people.
Sanyo Vero Specifications
via
Mobileburn