Sanyo Vero Review
1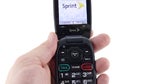 Introduction:
In a landscape flooded with smartphones and feature-rich dumbphones, sometimes we forget there is still a need for just a phone. Sanyo hasn't forgotten that market, and the Vero is here to replace the
SCP-3810
for Sprint. This basic phone caters to the older crowd, with exaggerated features and high contrast all around. It does manage to sneak in a 1.3 megapixel camera and Bluetooth, but beyond that it's your standard, basic flip phone.
Design:
The
Sanyo Vero
(by Kyocera) sports a pebble shaped design with a dark chrome front flip. The 1.3" OLED outer display is high contrast white-on-black with very large numbers. The inner display is rather large at 2.4" with a 240x320 resolution, quite good for what it is. Even in direct sunlight both displays were very easy to read. The numbers are equally large, again with a white-on-black design. The layout has been compared to the Jitterbug a few times in our brief time with the device.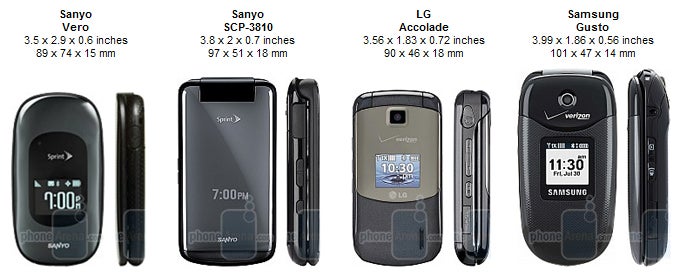 You can compare the Sanyo Vero with many other phones using our
Size Visualization Tool
.
The 1.3MP camera and prominent speaker holes are located at the top of the rear housing. The back has some texture, though we wouldn't say it adds any grip. The phone feels very good in the hand though, and is easily flipped open and closed with one hand. Against the face its slightly awkward because of the rounded edges, but nothing to really complain about.
The Basics:
The Sanyo Vero by Kyocera uses Sprint's familiar menu system, which even for a novice is fairly easy to pick up and use. The phone responds quickly to inputs and is well-laid out. Like the 3810 the Vero gives the user a large font option for those with decreasing vision. The Vero can hold up to 600 contacts and expanded information such as birthdays, addresses and notes can be added in addition to the usual multiple numbers and emails. As with all Sprint phones these days the Vero has support for threaded messaging. Voice dialing is available and handled excellently, as always, by Nuance.
Extras:
The Sanyo Vero does offer some extra features such as a web browser and 1.3MP camera, but as you might expect these features aren't world class. As a 1xRTT phone the Vero's web browser is fine if you stay within Sprint's portal or stick to mobile sites, but at any sign of adversity it gives up. The 1.3MP camera took fine pictures to look at on the phone, but that's about it. The camera's placement means that stray fingers often creep into shots unintentionally. As nobody is buying this phone for its advanced features we can't blame Kyocera for not putting a lot of effort in here. The Vero supports the Sprint Family Locator service, but is not GPS-enabled so Sprint Navigation is not available.
Recommended Stories