Sidekick II available this fall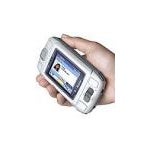 As phoneArena.com first published the rumor about the new Sidekick II (PV-100) today T-mobile made it official - it will be available to the public this fall. This will be the third edition of this gadget and the new version will be about 25% slimmer and will have fully integrated VGA camera with flash.
The first two Sidekicks have been very popular and especially among teenagers and T-mobile is hoping for the same success. If you are not familiar with this phone the slide and turn screen reveals full QWERTY key board allowing easy text entry. The new version adds more IM options with Yahoo!® Messenger and AOL® Instant Messenger™. Keypad-wise, there is a new directional pad, plus two new shoulder buttons (soft keys – which perform different functions in different situations). Another new feature is the "color bumpers" – swappable face plates which are sold separately. In addition T-Mobile and Danger plan to introduce new software that will allow Sidekick customers to wirelessly synchronize their desktop contacts and calendar information with their T-Mobile Sidekick.

For full Sidekick specifications and features click here.

Danger.com