Samsung Galaxy S III coverage complete roundup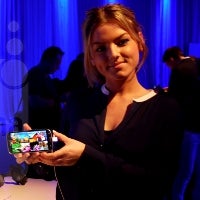 We put together a complete summary of our
Samsung Galaxy S III
coverage so far to ease your transition into the universe of Samsung's newest flagship Android handset.
The hype before, during and after the event has been unprecedented, with the phone itself probably being the most secretive device in Samsung's history. We can only imagine such a brouhaha to happen this year around the next iPhone launch, so there is a lot to follow.
In the end, what was
revealed
is an Android ICS handset with a 4.8" HD Super AMOLED display, quad-core Exynos 4412 or a Snapdragon S4 processor for the US, an 8MP camera with all the bells and whistles, and removable battery plus a microSD card slot, so the handset will be
future-proof
at least until the Cortex-A15 processors go into phones next year en masse.
Props to Samsung for not focusing on the hardware that much, but on a more
holistic approach
that tries to ease the way you actually communicate with your phone. It introduced the
Natural Interaction
concept with the Galaxy S III - the S Voice, Smart Stay and eye-tracking technologies that are supposed to marry speakers, sensors and microphones into one big happy family that bows to your wishes.
The AllShare and S Beam functions stress on the social and communicative nature of the phone, while innovative features like the Pop up Play picture-in-picture video mode got seamlessly integrated into the new
TouchWiz Nature UX
interface, which, however, still won't wow the stock Android UI purists.
Take a walk down memory lane for everything that happened around the grand unveiling of the Samsung Galaxy S III via the links, and check a collection of our own extensive video coverage in the slideshow below: