Samsung Galaxy S III may not have quad-core in the US models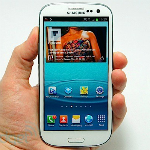 This is something we've heard a number of times before with various devices, but it seems that the Samsung Galaxy S III may not have the same
quad-core Exynos processor
in the US and Japanese variants that it will have in the model launching in May. The trouble is the same as why quad-core Tegra 3 handsets are rare in the US: LTE compatibility.
The Exynos 4 series processors (like the one expected in the international Galaxy S III variants) is based on relatively old architecture, which cannot handle LTE without an external modem, and that would be a huge hit to both the size of the device and the battery life. This is why LTE version of the HTC One X is powered by a Snapdragon 4 dual-core CPU rather than the Tegra 3.
The much more likely scenario is that Samsung will be launching the Galaxy S III LTE variants with a dual-core CPU. That could mean the Exynos 5 series, which is dual-core and supports LTE, but that chipset has literally just begun production, so it's unlikely they would be available in large enough quantities in time for the
planned June launch window
in the US. More than likely, we'll be looking at a Snapdragon 4 dual-core, so it may be good that the Snapdragon-powered HTC One X scored close to the Galaxy S III in the
new benchmarks that just came out
.