Samsung "next GALAXY" Unpacked event: Liveblog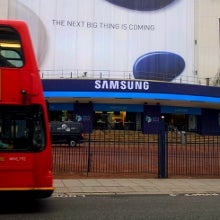 Samsung did the impossible and succeeded to keep its
"next GALAXY"
under the proverbial wraps literally until the last moment. Its Android flagship launch this year became an event that equals the excitement around the annual Apple iPhone launch, but we were treated with such an unprecedented level of secrecy, that the
first test mule tip under the codename Samsung GT-I9300
was sent to us almost at the end of March.
Moreover, while everybody is expecting for
a certain phone known as Samsung Galaxy S3
to be unveiled tonight in London, nobody but the designers and top carrier and retailer honchos has been able to glimpse the real design deal, and this is the huge question mark. Apart from the
quad-core Exynos 4412
and the
Super AMOLED HD Plus screen
, which are widely believed to be present tonight on the stage, we know almost nothing about the eventual camera improvements and the software additions, such as the rumored S-Cloud storage and sync service.
That is why we are liveblogging the London event to satiate your (and ours) curiosity, so stay tuned to the feed below, while we are presenting you the events as they unfold...
Live event tracker
| | |
| --- | --- |
| 14:02 | |
| 14:00 | Stay tuned for our hands-on coverage to be posted soon |
| 13:59 | the announcement part is over |
| 13:57 | |
| 13:54 | May 29th launch in 10 cities |
| 13:54 | May 29 - to be available in Europe and 10 city world tour |
| 13:54 | Internal memory - 16, 32 and 64 GB and microSD slot for memory expansion |
| 13:53 | |
| 13:53 | OS- ICS, full range audio and video codecs |
| 13:53 | |
| 13:52 | Personal wellness app |
| 13:51 | music hub - access to 17 million songs |
| 13:50 | video hub - hi-quality TV and moves productions |
| 13:50 | |
| 13:50 | Services developed for the S III |
| 13:50 | |
| 13:50 | HDMI adapter, S Pebble (MP3 player) |
| 13:49 | flip cover, desktop dock, battery charging stand, wireless charging kit |
| 13:49 | new range of accessories |
| 13:48 | sneak peak of the first TV commercial is shown |
| 13:47 | preparing an LTE version for the US |
| 13:47 | |
| 13:47 | Bluetooth 4.0, Glonas GPS |
| 13:46 | in-call sound equalizer |
| 13:46 | Wireless charger unveiled, based on magnetic resonance, will be available as a separate accessory! |
| 13:46 | wireless charging kit |
| 13:46 | Wireless Charger Kit will be available |
| 13:46 | the S3 will feature slim bezel. Even though the screen is 22% larger, the bezel is pretty much the same as S2 |
| 13:45 | 0.01 ms response time, more energy efficient |
| 13:45 | you can capture photo while recording video |
| 13:45 | Super HD AMODEL 4.8" display will be present on the S3 |
| 13:44 | video stablization |
| 13:44 | "best photo" in action |
| 13:44 | HD self video with front facing camera |
| 13:44 | "best photo" is supposed to select the best photo from a series taken in burst mode |
| 13:44 | face zoom feature - zooming on people faces by double tapping |
| 13:43 | 8 megapixel with LED flash |
| 13:43 | demoing now how "best picture" works |
| 13:43 | new feature - "best photo" will select the best feature of all |
| 13:42 | camera is fast, up to 20 shots in burst mode |
| 13:42 | can take up to 20 images in speed mode |
| 13:42 | it takes less than 1 second to go back to camera mode |
| 13:42 | it will feature 0 shutter lag |
| 13:41 | now talking about the camera |
| 13:41 | Samsung announces donation to WWF - $100 for each person attending the event |
| 13:40 | |
| 13:40 | |
| 13:39 | Marble white, Pebble blue will be the colors |
| 13:39 | 133 grams |
| 13:38 | |