Samsung lifts cover off official Galaxy S III accessories: impresses with Wireless Charging Kit
6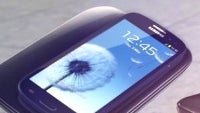 The Samsung Galaxy S III has finally seen its long awaited official debut, but what's an Android flagship without a couple of accessories to style it up for "humans" and add some extra functionality? Samsung brought a few of them at its London event today and the most impressive one is definitely the wireless charger a la Palm's TouchStone dock.
But there's plenty more accessories. Here's what Samsung says will accompany the S III on store shelves:
- a flip cover,
- battery-charging stand,
- spare battery,
- car dock,
- "metallic docking stand,"
- HDMI adapter.
What caught our eye most is the
Wireless Charging Kit
. We know it uses resonance techology, a first for a mobile phone and while we don't have further details, cutting the cords is an initiative we can only welcome.
Also, Samsung is pushing its
AllShare
wireless service for pushing music out to external devices with an AllShare Cast Dongle.
One of the best designed accessories is the
S Pebble
, an MP3 player that should somehow function in concert with the Galaxy S III, but again we're scarce on details yet. Check out the pictures below to get an idea about the upcoming accessories.
source: Samsung
Images courtesy of Engadget.com