Samsung Galaxy S III comes with a PenTile matrix: screen comparison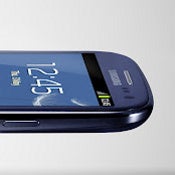 The Samsung Galaxy S III is really all about everything - the marriage of design, software features and processing power, but since you'll look at the screen all of the time it's mostly about the screen. The Galaxy S III has got a
4.8-inch Super AMOLED display
with a resolution of 720x1280 pixels. And this alone should already disappoint some of you waiting for a Super AMOLED Plus screen. Let us explain why that's kind of a letdown.
A Super AMOLED screen is the same as the one on the
Galaxy S II
Galaxy Nexus and this means that it's not using the full RGB matrix, but instead goes for the
PenTile RGBG
pixel
arrangement. This means that effectively you get a third less subpixels, hence a slightly worse picture. Samsung obviously relies on the HD resolution of the display and the excellent contrasts of its AMOLED technology to make up for this, but it's clearly one area where competitors like LG might take the leading
edge
and capture geeks hearts.
FEATURED VIDEO
Engadget got an early look at the handset and is bringing
230x magnified pictures
showing off the subpixels and comparing the Galaxy S III display to the ones on the HTC One X, the Galaxy Nexus and then against the whole Galaxy S family. Check it all out to see what you get and what you lose, and let us know how you like the display on the S III, by this comparison below.
All images courtesy of Engadget.