Which feature do you like most in the Samsung Galaxy S III?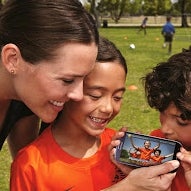 Now that the big announcement is already behind us, we wanted to ask you, dear reader, which one of the new features you find most appealing in the
Samsung Galaxy S III
.
Maybe you are fascinated by the quad-core processor in the international version, or the new camera shenanigans. Or is it how Samsung managed to cram a 4.8" display in a body slightly larger than the Galaxy S II? Or the innovative accessories like the resonance
Wireless Charging Kit
?
Is it the
Natural Interaction concept
, which combines camera, sensors and microphone to bow to your every wish and command, or maybe the S Health "
personal wellness app
"?
No matter how you slice it, even though RGB AMOLED and 12MP camera res turned out to be fruits of our collective overzealous imagination, the Samsung Galaxy S III is bound to become an Android yardstick this year, so shout out what you like most about it.