Samsung Galaxy Mini 2 Hands-on Review
1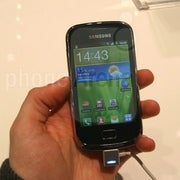 The
Galaxy Note 10.1
and
Galaxy Beam
are undoubtedly the coolest devices that Samsung has on display at MWC 2012, but it is now time to check out a device that is a bit more on the low-end. We are talking about the
Samsung Galaxy mini 2
, which is a basic Android smartphone that is to succeed the previous mini model.
Even though it is an entry-level smartphone, the Samsung Galaxy mini 2 does not feel that cheap. Actually, it is pretty compact and rests nicely in the hand. Don't get us wrong, it is clearly just a basic smartphone, yet it looks and feels quite nice considering its price point. What we have on its front is a 3.27-inch display with a resolution of 320 by 480 pixels. Yes, we finally have an entry level smartphone with a decent display resolution, and we are very pleased with that fact.
The Samsung Galaxy mini 2 unit at MWC 2012 runs Android 2.3, which is an indication that it might run Gingerbread at launch too. And that is not a particularly good thing, though we are hoping that Ice Cream Sandwich will make its way onto the smartphone one day. As far as performance is concerned, the 800MHz processor coupled with 512MB of RAM has no trouble performing every day tasks, but then again, its burden is not that heavy due to the HVGA display resolution. Last but not least, the Samsung Galaxy mini 2 has a 3-megapixel camera on its back, and offers 4 gigabytes of on-board storage.
Overall, the Samsung Galaxy mini 2 is a pretty decent device suitable for first-time smartphone users. Its hardware is low-end no matter how you slice and dice it, but after all, you get what you pay for.