Palm Pixi Plus quietly makes an exit from Verizon's web site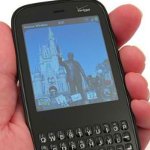 If you've visited Verizon's web site of late, you may not have known, but the
Palm Pixi Plus has been removed from their listing
of available handsets to purchase. Although it might not come off as being surprising for some people, it now places the load on the Palm Pre Plus as being the sole webOS offering on Big Red's lineup.
Obviously, not all devices will live on through the ages, but the departure of the Palm Pixi Plus might be another blow to HP/Palm since we're finding fewer carriers holding onto any webOS smartphones. Even more, it's rather alarming since we have yet to see any US carrier take hold of the Palm Pre 2 – which can be seen as a big blow in getting the platform into the hands of consumers.
But then again, you can still find the Palm Pixi Plus on HP's Wireless Central site and even through the variety of online retailers out there.
source:
Verizon
&
HP
via
PreCentral