Opinion: What explains Windows Phone's sales woes?
82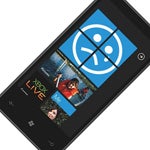 What's holding back Windows Phone in the market?
Windows Phone is a good mobile operating system. Really,
it is
. But if the only way you had to judge the quality of an OS was by looking at market share then not only would you think it must be terrible, but it would be getting worse. In Q3 of this year there were less WP7 handsets sold than there were in the first quarter of the year.
So if the product is good,
why can't they sell more?
This, in a nutshell, is
the conundrum
that Microsoft has been facing since they launched WP7 in Fall 2010. Despite receiving high marks from reviewers and excellent satisfaction rates from the people who bought a WP7 device, sales numbers continue to circle ever lower like bathwater emptying down a drain.
The subject of "why" this is happening has received a bit of press lately, sparked by former Windows Phone GM Charlie Kindel, who voiced his take on the matter on his personal blog. In short, Kindel believes that Microsoft's business model doesn't encourage carriers or OEMs to want to push Windows Phone handsets with their marketing dollars.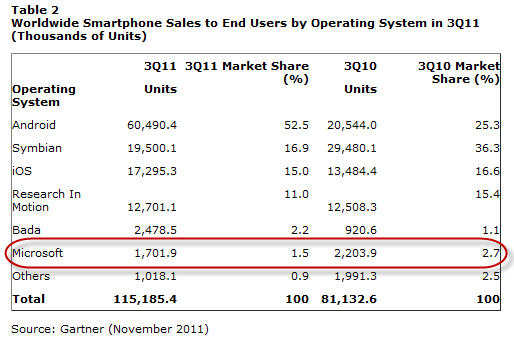 Tech blogger and Apple apologist M.G. Siegler opined that one of the bigger problems WP7 faces is simply how late it is to market. Since iPhones, Android devices, and even BlackBerrys all dominated consumer mind share by the time WP7 launched, the bar had been raised much higher in the eyes of the average consumer. Microsoft needed to make a product so incredibly good that there was no choice but to try it out, possibly luring customers over from existing ecosystems.
Siegler feels that WP7 is a solid product, but it isn't
that
compelling. He's presumably correct, since people are not flocking to Windows Phone in droves.
Those two ideas aren't mutually exclusive, and there is probably a lot of truth to both – studies have clearly demonstrated that salespeople
don't push Windows Phone
devices in stores. And being late to the party does mean that Microsoft has a harder case to make – not merely "this is a nice OS too", but "here is why you should leave the already entrenched mobile ecosystems for our product". But in amongst all of this there may be another reason that has largely been ignored:
Windows Phone is competing more directly with the iPhone than with Android
Microsoft doesn't say this of course. In fact they go out of their way to pit Windows Phone against Android. CEO
Steve Ballmer
,
WP7 managers
, even
executives at Nokia
, all of them practically trip over themselves to compare WP7 with Android. And in one sense this is correct – Windows Phone is competing with Android to attract OEMs. Motorola was firmly in the green robot camp even before Google acquired them, while Nokia
famously chose
to side with Microsoft.
But honestly it isn't a zero-sum competition. Many OEMs choose to build phones for both, and even more would if both platforms were equally profitable. Hardware manufacturers follow the money; if consumers adopt Windows Phone en masse, you can bet the OEMs will step up and make what the people are buying.