After Android Ice Cream Sandwich will be Jelly Bean
78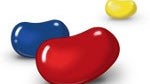 This is my next
is reporting an exclusive from a trusted source that the next iteration of Android will be code-named Jelly Bean. This makes follows in Google's habit of code-naming the Android updates after sweets.
The trend began with Android 1.5 which was called Cupcake, and continued with Donut (1.6), Eclair (2.0/2.1), Froyo (2.2), Gingerbread (2.3), Honeycomb (3.x), and Ice Cream Sandwich (?.?). It isn't much of a surprise that Jelly Bean would follow, because there aren't too many
iconic
sweets that start with the letter J
.
And, it'll get even more difficult when we hit K, although our money will be on Key Lime Pie when the time comes.
Not much more information is available about the update, but the source claimed the update would include "game-changing stuff" that didn't make it into ICS. Seems logical because it's always the "game-changing" stuff that gets bumped first when cutting features for release. We feel pretty safe in assuming it will launch around November of 2012 and be found first on the Nexus 4. Google seems to be settling into a yearly update pattern, and has released major updates and lead devices in the late fall/early winter for the last 3 major phone releases.