Microsoft details future of Windows 8 tablets: hundreds of Live Tiles that don't drain your battery
14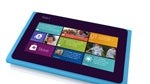 Posting to its developers blog, Microsoft has detailed a new push notification system they will be introducing with Windows 8. The result, claims Microsoft, will be a system that supports hundreds of Live Tiles with real-time updates while having a minimal impact on battery life. Reduced power usage is appreciated on all computing platforms, but is especially important on laptop and tablet devices.
Sparing your battery won't be the only innovation Microsoft is introducing to Live Tiles; developers will be able to incorporate "beautiful images" into Live Tiles, enjoy new "tile templates" that will simplify the creation of Live Tile apps, and leverage quicker "real-time delivery".
The secret to the new Live Tile architecture is the combination of simple XML templates for developers, and a push-based back-end service for Windows 8 notifications.
Push services are sent directly to your device, without the device needing to contact a server independently ("poll"). Which means your tablet will not need to constantly check to see if a notification is available. To make this possible Microsoft will be creating a massive back-end service, named Windows Push Notification Service (WNS), which will need to scale up to serve all of the Windows 8 Live Tiles in the world.
Luckily this will all be transparent to the consumer. The result should be a robust Live Tile ecosystem available for the launch of Windows 8, and an extra couple of hours before recharging your tablet. And who knows, maybe some of this increased efficiency will find its way into Windows Phone 8 as well.
source:
Building Windows 8
via
WMPoweruser