Eight tablets teardown analysis lends an advantage to Apple's vertically integrated approach
5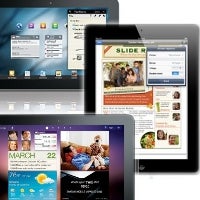 We've often posted
teardown treatments by IHS iSupply
, which strip popular gadgets barebone, and then make an educated guess about the Bill of Materials (BOM) they carry, like components price and assembly expenses.
The research company has done this with many of the popular tablets already, from all the major manufacturers, and has now compiled the findings in a neat table.
It doesn't take a rocket scientist to reach to their conclusion that Apple's iPad and iPad 2 have advantages before the rest, due to the tightly controlled supply chain, the design-centric process, use of in-house components like the A4 and A5 chipsets, as well as the highly-optimized iOS software, tailored specifically for Apple's hardware designs.
Still, from the various BOMs iSupply slaps on the tablets, it is evident that the
iPad is not the cash cow that the iPhone is for Apple
, with its operating profits close to 50%, mainly due to the fact that tablet components, like the larger screen, cost more than those in an iPhone 4, yet the handset is selling for roughly the same ASP of $600+ as the iPads.

"
Apple takes a vertically integrated approach to its products, from the operating system to the user interface, to the hardware design, down to the selection of individual parts used in the device. For example, Apple even uses its own applications processor design in both the iPad and iPad 2. In contrast, Android tablet makers buy those capabilities from the likes of Nvidia, Texas Instruments and Qualcomm. This gives Apple greater control in multiple areas of product development.
", notes Wayne Lam, senior analyst at IHS.
More interestingly, Lam says: "
The iPad's efficient memory usage stems from the fundamental difference in the architecture of the operating system. Apple's iOS handles multitasking differently than other tablet operating systems, allowing it to reduce the amount of memory required to support the microprocessor.
" Memory is one of the most expensive components, so the iOS efficiency allows Apple to cut the iPad BOM with $14 compared to other tablets that have to use more RAM. That same efficient integrated design approach has freed up space for a
large capacity battery in a very slim chassis
.
Actually, from the looks of it, RIM's
BlackBerry PlayBook
and the golden oldie
Samsung Galaxy Tab
are achieving similar or larger profit ratios to Apple's tablets, but bear in mind the numbers listed in the table above are for the time when the teardown of each tablet has been done, i.e. a little after its launch, so the Galaxy Tab ratio is quite outdated.
source:
IHS