Windows Phone 7.5 Mango overview
39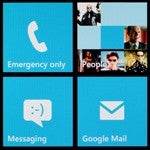 Introduction:
The Windows Phone Mango update has finally landed, and it is time for us to go over some of the new goodies that Microsoft has thrown in the set. Why not all of them? Well, Microsoft went above and beyond with this one and added 500 or so tweaks and improvements to the platform. However, most of them are minor and are not really of interest for the majority of you, so instead of boring you to sleep with technical mumbo jumbo, let us just check out the most significant newly-added features in Windows Phone Mango.
Interface:
So, we fire up our trusty LG Quantum updated to Windows Phone Mango, fresh and ripe. We are greeted by the all-familiar home screen populated by a set of live tiles, and the list of applications is only at a swipe's distance. At a glance, there doesn't seem to be anything new here in terms of visuals, and navigating about feels just as it did before – fluid and responsive. Of course, there is nothing wrong with that as we have always been fond of the Metro UI and its elegant, sophisticated looks.
Multitasking:
Upon holding down the back button, however, we enter multitasking territory – a feature that Windows Phone sorely needed. The task switcher pops-up and gives a side-by-side view of all running applications, so jumping back and forth between apps is as easy as pie. Every opened web browser tab gets its own preview window as well, which is pretty neat in our opinion. Unfortuantely, only up to six tasks can run simultaneously, so the feature turns out to be not quite as potent as one would expect. Besides, only native applications seem to spring back into action without a hitch while third party apps experience a slight delay before resuming. We were also disappointed that a way to close down a a running application from the task switcher is missing. Nevertheless, having some sort of multitasking is much better than having no multitasking at all, right?
E-mail client:
A quick look at the built-in email client shows some significant improvements as well. For starters, email conversations are threaded now, meaning that your conversations get grouped together instead of being treated like individual emails like it was in earlier versions of Windows Phone. Something that we also like is that you can set up multiple email accounts and have some or all of them linked together in a unified inbox.
Twitter integration:
Twitter integration is another perk that Windows Phone Mango brags with, which is why you now get tweets from your buddies delivered straight to your People hub. Some other cool things that can be done now is sharing a photo via Twitter without leaving the gallery and tweeting a web link straight from Internet Explorer. However, it feels kind of weird that the dedicated Twitter app does not come pre-installed, and once we grabbed it from the Marketplace it would not let us log in, probably because it has not been updated for Mango yet. Sure, one would presume that it may not be needed since the social network is now tightly woven into the Windows Phone platform, but we still find it neat using a dedicated client every once in a while to check what the latest online trends are and what strangers around us are tweeting about.
SkyDrive:
Another major feature that has been integrated deeper than before is SkyDrive, which is Microsoft's cloud-based service for storing files and media. Documents, photos, and videos can be easily uploaded to the cloud straight from the device. In addition, all the stuff you have on your SkyDrive can be quickly attached to an email that you are composing on your smartphone. However, we find it kind of strange that if you need to do anything more "advanced" like deleting a file from the cloud or moving it someplace else, you are pretty much out of luck. Managing the content on your SkyDrive requires you to fire up the phone's internet browser and use the web interface of the service. At least, the SkyDrive web site is now powered by HTML5, and Internet Explorer 9, which Mango comes equipped with, has no troubles running it.
Internet Explorer 9:
Besides HTML5 support, Internet Explorer 9 flaunts a brand new JavaScript engine and gets hardware acceleration. As a result, surfing the web is a silky smooth experience without a hint of lag. Pinch-to-zoom works flawlessly, and if you prefer, you can use double-tap to zoom in on paragraphs and columns. The only thing that is missing is Adobe Flash support, and chances of that ever coming to Windows Phone are miniscule as Microsoft has no plans on adding support for the feature anytime soon.
Bing search:
We also noticed that a few cool changes have been made to how Windows Phone Mango searches the internet using Bing. Besides doing a regular web search, you can now look for nearby venues, restaurants, or outlets thanks to a feature called Local Scout. On top of that, Bing now has the ability to scan barcodes and to identify songs in a true SoundHound fashion, which spares the need to get dedicated apps for that functionality. Microsoft has also enabled Bing to scan text with the phone's camera and translate it into another language, but the feature was usable only when enough light was illuminating whatever we were trying to scan.
Minor features:
Some minor tweaks that we find interesting include the ability to add custom ringtones as opposed to being stuck with the boring stock ones, and to take photos by tapping on the smartphone's display instead of using the dedicated shutter key. The addition of video chat support and the Wi-Fi hotspot functionality should also be mentioned, but sadly, both of these features will be present only on the latest Mango devices.
Final thoughts:
And that pretty much sums up our first experience with Windows Phone Mango. The new version of the platform sure seems like a step in the right direction for Microsoft and will likely help the company in its efforts to catch up with the big boys on the smartphone market, at least to some extent. All the new features breathe some new life into the platform and make it seem more potent, more elegant, more capable of getting stuff done than it was before. At the same time, those who have been loyal to the platform for so long will have far less reasons to switch teams now that Mango has been pushed out.
On the other hand, it worries us that a great fraction of what Mango brings to Windows Phone is functionality that the competition has already had for a while. The platform sure isn't anything groundbreaking; it is more like an upgrade that adds features Windows Phone should have already had in order to gain enough momentum. Android and iOS are still the indisputable leaders on the smartphone field, and it is going to take something more if Microsoft is to reach their enviable market share figures.
Some real high-end devices, perhaps? The ones that captivate smartphone aficionados and show off the full potential of the platform they run.
For example, dual-core processors or LTE connectivity
are features that are yet to be seen on a Windows Phone device. And let us not forget the significance of software availability. With 25,000 applications in its catalog, the Windows Marketplace is way behind the App Store and the Andorid Market, both of which offer hundreds of thousands of apps.
All in all, with Mango, Windows Phone has gotten closer to the big boys than it has ever been, but that is just one part of the equation. The hardware that it runs on and the amount and quality of software that it offers will also need to be pushed to the next level before Windows Phone can become a real alternative to Android and iOS.
Windows Phone 7.5 Mango Video Overview: