Smartphone adoption heating up among 55-64 year olds
9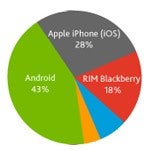 The relentless march of smartphones through the mobile phone marketplace picked up the pace among 55-64 year olds in the three month period ending in October, according to recent numbers released by Nielsen. In just 90 days a full 5% of U.S. consumers in that age range chose smartphones over feature phones, bringing the overall number of smartphone use in 55-65 year olds to 30%
Perhaps not surprisingly, the highest rate of smartphone adoption can be found among 25-34 year olds, where 62% of phone users have now chosen a mobile computing platform over traditional feature phones.
Nielsen reported that smartphone adoption across the population as a whole is now at 43%. More than half of consumers below the age of 45 have adopted smartphones, so the most rapid gains will most likely come from individuals in the upper age brackets going forward.
It will be interesting to see if this shift will have an impact on marketing campaigns and the market share of mobile operating systems, as companies target smartphones to underserved age groups.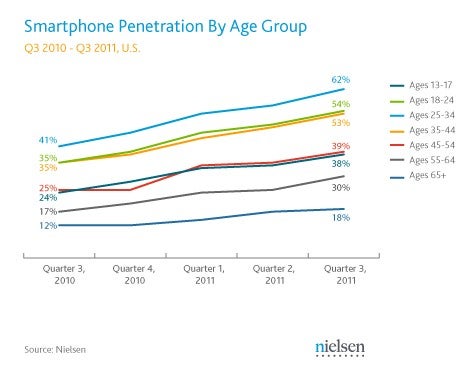 source:
Nielsen Wire
via
Engadget