Windows Phone roadmap leaks, Tango and Apollo on schedule for 2012
17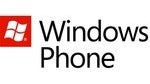 What you see below, folks, is said to be a
leaked Windows Phone roadmap
, allegedly up to date as of October 2011. Once again, we are given clues regarding the platform's next major releases – Tango and Apollo, and the kind of experience we could expect out of them.
So, according to the leaked roadmap, the Tango update will bring Windows Phone 7 to
"products with the best prices"
, which is something that
we do not hear for the first time
. That means we might witness the arrival of affordable WP smartphones with entry-level specs, possibly meant to boost the platform's market share. Sadly, there is no word whether LTE support will be introduced along with Tango's launch, or we will have to wait until Apollo's release before we get the feature supported in Windows Phone.
But while Tango is not expected to be that exciting of an update, Apollo is what will spice things up quite a bit, as long as the rumors are on the right track. Allegedly scheduled for the last quarter of 2012, Apollo is what will enable the release of "competitive superphones" powered by Windows Phone. What comes to mind are
HD screens and dual-core processors
, but we have to wait quite a while before we know for sure what the update will bring.
Bear in mind, however, that this is nothing but a leak, so the information it provides might turn out to be inaccurate. On the other hand, we will surely keep our fingers crossed hoping that word about the future Windows Phone updates will come during CES 2012.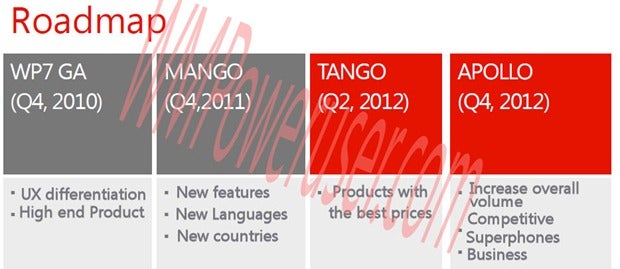 This is said to be a leaked Windows Phone roadmap