Nokia's Stephen Elop says that all Android devices look and act the same
99+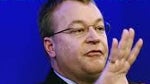 At the Open Mobile Summit in London, Nokia CEO Stephen Elop made some
controversial
comments about a wide range of industry matters, most of which dealt with the Android OS. The executive commented on how
well
his company is doing, saying that Nokia is doing better than ever and plans on becoming pals with mobile carriers. He also said that all Android devices
look
and
act
the same and that Google's open source OS owes its creation to the Apple iPhone. Elop also managed to blame the OS for the poor sales of Windows Phone 7 devices saying that OEMs
prefer
Android over Microsoft's mobile OS.
The CEO said that the
closed
nature of the Apple iPhone led to the creation of Android. Elop said, "Apple created Android, or at least it created the conditions necessary to create Android. People decided they could not play in the Apple way, and they had to do something else. Then Google stepped in there and created Android… and others jumped on the Android train." When discussing how Android models act and look alike, Nokia's CEO said, " If it's too hard to differentiate on a platform,
commoditization
steps in. But then differentiation starts to creep back in through
fragmentation
." In other words, if the manufacturers of Android handsets want to make models that are different from each other, it will require fragmentation of the software.
And Elop's comments are ironic considering the strict
requirements
, for both hardware and software, that Microsoft demands of OEMs in order to get Windows Phone 7 installed on a handset. Google doesn't place the same limitations on Android which might explain why manufacturers seemingly
prefer
the green robot. Android models range from the cheap to expensive, from low-end specs to amazing high-end devices. Furthermore, each manufacturer of Android smartphones has a
signature
that makes a Motorola DROID X2 look different than the HTC EVO 3D for example. With all the limitations that Redmond puts on users of its mobile OS, it is hard for one manufacturer to stand out from another. This is the
challenge
that Nokia will face when trying to promote itself in the Windows Phone 7 market. So when Stephen Elop says that all Android devices look and act the same, we wonder what can he be thinking about the new brains behind his firm's upcoming new models.
source:
paidContent.org
via
AndroidandMe
Recommended Stories