Steve Ballmer confirms that Nokia Windows Phones are on tap for next week, says Android is for geeks
71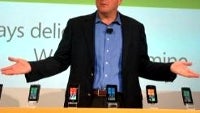 In his trademark direct style Microsoft's CEO Steve Ballmer said in an interview at the Web 2.0 Summit: "
You don't need to be a computer scientist to use a Windows Phone, but I think you do to use Android.
"
Ballmer's jab at Google's mobile OS has actually been admitted by Andy Rubin himself, who said they are working to make the green robot more user-friendly. Some of the
new features in Android Ice Cream Sandwich
stirred the Windows Phone community, which pointed out that they resemble features in Microsoft's mobile OS, like the People Hub.
The telling part of the interview, however, came after CEO Steve Ballmer admitted that we will actually see "
new devices running Windows Phone
" at Nokia World, which starts next week, although it has been largely suggested that will indeed be the case. For the first time we hear an the CEO of Microsoft to confirm the new era for the alleged third mobile ecosystem is about to start next Wednesday with the official announcement of them Nokia Windows Phones, eight months and change after
CEO Stephen Elop said my way or the highway regarding Nokia, Symbian, Android, MeeGo and WP
.