Opera Mini 9 for iOS goes live with Video Boost feature and large screen support
3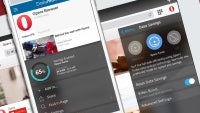 Opera Mini 9 for iOS goes live with Video Boost feature and large screen support
Opera Mini 9 for iOS is live, and the Norwegian software house proudly presents it as "the first internet browser with video optimization". Indeed, the outstanding new addition here is the Video Boost feature, which can be enabled in the following way: tap the O-menu, go to Savings Enabled, choose Opera Turbo, and toggle Video Boost.
The technology works by letting Opera's servers take "a quick peek" at the vid's resolution and quality. Video data deemed extra large gets automatically shrunken down before it reaches your phone, which minimizes buffering time. This happens in real time, or as Opera puts it, "in the blink of an eye".
The feature should work outside of YouTube as well, meaning all streaming videos will receive some form of boost. Expect to sit in front of the dreaded "buffering" icon more rarely from now on.
Additionally, the app offers extended Speed Dial bookmarks saving, and brings along proper support for the iPhone 6 and iPhone 6 Plus's larger displays. You can download it from the link below.
Download Opera Mini 9:
iOS