Nokia unveils Nokia 6012, Nokia 3205 and Nokia 6255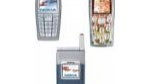 Nokia annouced three new CDMA handsets for North America at CTIA Wireless 2004 show. The customizable Nokia 3205, the functional Nokia 6012 and 6015i and the high end 6255i.



Nokia 6012 and Nokia 6015i features full color displays, handsfree functionality, downloadable applications support, optional changeable Xpress-on(TM) color covers, downloadable 16-channel polyphonic ringtones, built-in voice recorder and synchronizable PIM.



Nokia 3205 ismade-to-personalize CDMA2000 1X phone, it features color display, MMS functionality, integrated camera, cut-out front and back covers.


Nokia 6255i is the latest and most advanced headset in the Nokia's portfolio of CDMA phones. Sased on Nokia's own CDMA2000 1X chipset, the phone integrates a lot of features into its 4.2 ounce, fold-style design. The tri-mode (CDMA 800/1900/AMPS) handset is expected to be available Q4 of 2004 and features dual color screens, MMC memory card support, a VGA camera with flash and digital zoom, video player, streaming media capability, an MP3/AAC player and FM radio.
Check out articles section for live picture of the announced phones.