Nokia Booklet 3G demo units arrive at Best Buy stores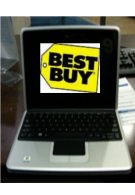 You won't find Nokia's name in just the mobile phone department in Best Buy stores because it's going to start popping up in their computer department. Most likely it'll be prominently featured throughout the store thanks to its impressive specs and awesome good looks. We've just gotten information from one our tipsters that stores have begun receiving their demo units that'll be in the front lines for potential buyers to check out before purchasing. In addition, it seems like it'll be packed with a Barnes and Nobles eReader and will come in either your choice of colors – black, blue, or white. We're sure that this powerhouse of a netbook will bring Nokia's strong presence against the other competition it will be duking out for in stores. This may well become Nokia's shining moment to captivate consumers and have a decent share of the market with its release.
Thanks to our tipster!