New accessories make their first appearance at Nokia World 2009

Usually, phone accessories get overshadowed by handsets. With all the hype over the
Nokia N97 mini
,
X6 and X3
, we almost forgot to tell you about the two Bluetooth headset models, the
BH-505
and
BH-607
and the new
MD-9
speakers. Let´s get started with the latter. The MD-9 is among the very few gadgets that allow you to take the party with you and get it in the open or to a place with no electricity. At the same time, the set is really compact and easy to carry around in your pocket. Nokia promises that the two AAA batteries the MD-9 takes will be able to provide 50hrs of continuous audio playback and that the MD-9 will bring powerful sound through its omni-directional 30mm tweeter. Moreover, it connects to any device equipped with 3.5mm jack and via proper adapter, to all handsets with 2.5mm one as well.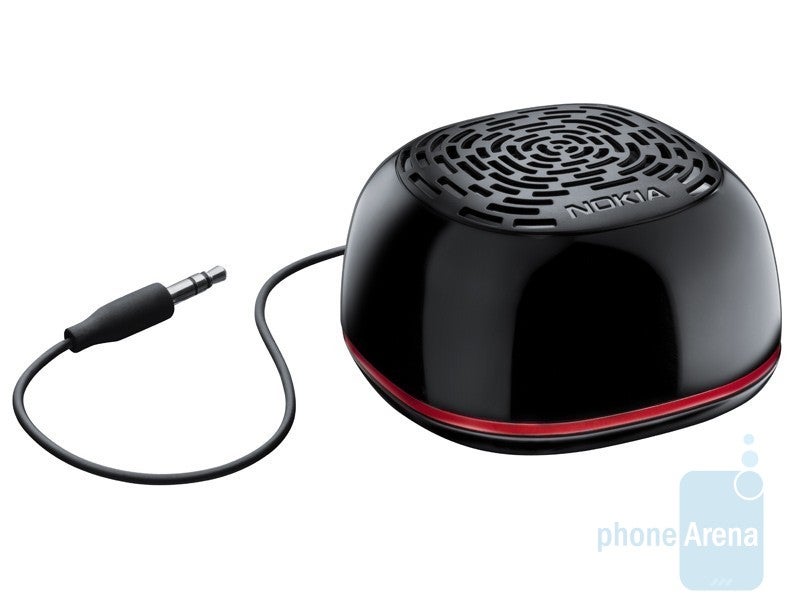 The Nokia MD-9 mini loudspeaker system
The Bluetooth headset BH-505 is another music-centric device. The set has been specifically designed for people who work out on regular - its 36gr weight means it´s as light as a feather, plus the set is sweat and splash (water) resistant. You can choose how to wear it yourself, i.e. whether to wear it as in-ear earplug or rather attach it to your ear, which is a neat idea indeed. The Nokia BH-505 will give you utter control over the music player and phone call functions and the manufacturer promises impressive battery life on a single charge - 10hrs of continuous talk time and 8hrs of non-stop audio listening.
The Nokia BH-607 is a more ordinary headset designed for heavy use on daily basis that delivers 5hrs of continuous talk time when charged for 15 minutes. You will be able to talk for no less but 7hrs if the device is fully charged and the battery will keep it operational for 160hrs in standby. Moreover, it can be simultaneously connected to two handsets, sports double microphone and DSP functionality for improved sound quality and proper noise handling. Finally, it features a dedicated button that can be assigned up to three functions of your own choice.
Unfortunately, information about their prices and market release dates is still unavailable.
source: Nokia