Motorola Goldfinch & Bei Hai make a pit stop at the Bluetooth SIG
This article contains unofficial information.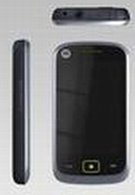 Motorola was going to release 20 new Android models
for the remaining portion of the year – which is an impressive figure considering we're closing in on the halfway point. Now there looks to be two new models coming out from that aggressive stance as they make a stop at the Bluetooth SIG with one of them possibly running Android. First up is the Motorola Bei Hai which is looking more likely to be released in China as it sports Wi-Fi, GPS, Bluetooth
2.1
, 5-megapixel camera, HDMI out, and the ability to capture video at 720p. It wouldn't surprise many that the handset would likely receive a name change if it were to venture elsewhere across the globe. The next one up is the Motorola Goldfinch which offers a 3.2" display, Bluetooth 2.1, FM Radio, ISDB-T receiver to get digital TV in Japan & Latin America, and a 3-megapixel shooter. Between the two, it's reported that the Motorola Bei Hai will be the one to pack on Android. Based on the rendered images so far, it doesn't invoke anything new which we haven't seen before from the veteran handset manufacturer.
source: Bluetooth SIG (
Bei Hai
&
Goldfinch
) via
SlashPhone