Motorola DROID 2 gets shuttered for the first official time
This article contains unofficial information.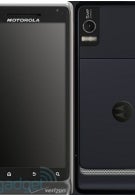 Usually, the baby is born before you start taking pictures. In the cellphone world, things are done differently, of course, and we have the first official pictures of a phone that has not even been introduced. What you are looking at is the Motorola DROID 2 which was carefully hidden on the DROIDDOES web site inside a Shockwave Flash file. As we've noted before, the DROID 2 has a chrome bezel that wraps around the front of the device and the whole handset is a bit more rounded than the original DROID. August 23rd has been speculated to be the date of launch, just enough time that perhaps the phone will be equipped with Android 2.2 out of the box. The sequel to the Time Magazine Gadget of 2009 could be priced at around the $199.99 that other high-end Android models have been bar-coded at recently.
Motorola DROID 2 A955 Preliminary Specifications
source:
DROIDDOES
via
Engadget