Lenovo Vibe P1m hands-on
1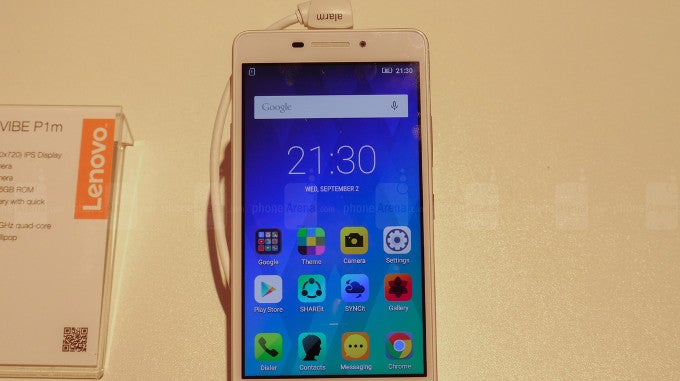 Lenovo unveiled two new P series phones at IFA 2015, and we're already on the showroom floor taking a look at the smaller of the two - the Lenovo Vibe P1m, a very affordable phone with a 5-inch display. It's running on the MediaTek MT6735P etnry-level quad-core system chip, it features 2GB RAM and 16GB of internal storage.
Its biggest highlight, though? A whopping 4000 mAh battery that should keep you charged for way more than a single day of usage. So here is what this exciting new affordable gadget is all about.
When it comes to the design there is really nothing much to say about the Lenovo P1m - it's an affordable phone and it shows by the plastic, uninspiring build. Overall, the phone is a bit on the bulky side with exact dimensions coming in at 141 x 71.8 x 9.3mm.
Interestingly, Lenovo says that the P1m also features an interesting advanced nano-coating technology by P2i for protection against accidental splashes and spills, but that does not mean that the device is fully water-proof, so keep that in mind.
Up front, there is a 5-inch screen with a resolution of 720 x 1280 pixels, which works out to a very decent pixel density of 294ppi. While not as sharp as most flagships, users should not expect any major pixelization issues at this stage. What varies more are colors, and in terms of color accuracy this here Vibe P1m does not seem to be all that well calibrated and it's obvious that viewing angles on it are poor - just tilt it slightly and colors start washing out.
Processor, Memory and Performance
When it comes to internal storage, the Lenovo Vibe P1m comes with 16GB on board and the option to expand on that via microSD cards. 16GB is definitely considered above average at this affordable price point.
Camera
We did not get to give the cameras on the Lenovo Vibe P1m a proper spin and test them well, so our commentary here will be mostly limited to the specs: you have an 8-megapixel main, rear-facing camera, and a 5-megapixel front-facing selfie cam. Having an 8MP main camera unit is definitely an interesting decision, especially given the fact that the overwhelming majority of affordable phones from China theses days opt for a 13-megapixel main cam unit. This is also a hint that Lenovo might have saved a bit when it comes to camera, so we wouldn't have too high of a hope for this camera setup, but let's reserve the final judgment for times when we've actually used the device.
Expectations
Finally, the Lenovo Vibe P1m starts at the very affordable $159 for the full 4000 mAh experience. This is a great price for an affordable phone with a large battery - a combination that seems to be in high demand across many consumers.
From our experience it also runs well, has a decent Android skin that performs smoothly, and will help you get through the daily grind with ease. What's not to like for a phone that will be easily available in multiple markets across the world (but not in the United States)?