Leaked memo says third party iPhone screen repairs will no longer void the rest of your warranty
23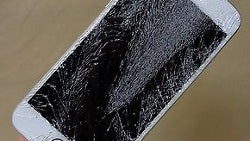 So let's say that you drop your iPhone and crack the screen. As you dry the tears from your eyes, you see a little shop offering a great deal on screen repairs. In the past, having a third party repair your iPhone screen would mean that your warranty was voided. But that might not be the case any longer if a leaked memo from Apple is legit. If the memo is the real thing, having a third-party screen adorn your iPhone would no longer automatically preclude you from having other issues covered by a valid warranty.
According to the leaked memo, Apple will pay for whatever repairs of non-screen issues are covered. That stands even if you had the screen previously fixed by that little place in between the sub shop and the comic book store. The change will take effect on both the standard one-year new product warranty, or extended AppleCare warranty coverage.
If a third party component causes the repair to fail, Apple will ask the customer to pay the out of warranty price to replace that part in order to fix the original problem. The alleged change to the warranty covers third party displays only, which means that authorized service providers will still refuse to handle repairs related to the use of other third party parts and components.
We expect that Apple will issue a proper press release when it is ready to share this news to the public.
source:
MacRumors