Icycle: On Thin Ice platformer brings outworldly visuals and crazy gameplay, lands on iOS
1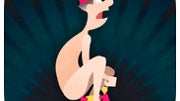 Here's a crazy new platformer game that's just launched on iOS and is a lot of fun: Icycle: On Thin Ice. The love story of a man on a bicycle kissing a fish, an outworldly art experiment with the appropriate soundtrack, abstract and colorful Icycle is both a fun and challenging game with a love story to it.
In Icycle, you take over the role of the naked Dennis, a bike-rider struggling through an icy world that's falling apart. Cities are collapsing, bombs are exploding and all sorts of craziness happens around as you jump and ride your bike.
The touching story is drawn in jolly colors, but manages to vary in emotion from the beautiful to the sad as the whole world seems to reflect Dennis' pursuit of love on his tiny bike.
The game is just a dollar on the App Store and is available right now, you can get it at the link right below.
Download Icycle: On Thin Ice for iPhone, iPad
source:
TheVerge
Recommended Stories