Huawei teases March 9 event in Berlin, will probably unveil P9 flagship smartphone line-up
3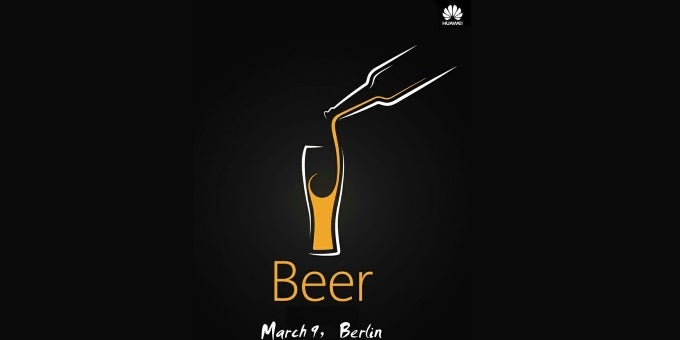 High-end Chinese smartphone makers have been on a roll this quarter. Xiaomi wowed the crowd at MWC with its Mi 5 flagship smartphone, Oppo introduced the fastest of fast charging solutions, and Vivo presented the world's first 6GB RAM smartphone. Unsurprisingly, the top dog Huawei is looking to get the last laugh by unveiling the Huawei P9 smartphone line-up.
The mobile and communications technology mogul posted an invite for an upcoming March 9 event in Berlin, Germany. We're not sure what beer has to do with anything, or whether Huawei has plans to announce its own flagship brew. But we're pretty sure the P9 will be making an appearance, and bringing company.
The P9 line is expected to include the P9, P9 lite, P9 Max, and an enhanced version of the P9.
The P9 line is expected to include the P9, P9 lite, P9 Max, and an enhanced version of the P9. The latter will come with more RAM, increased storage, and a screen sized in between the P9 and P9 Max. If Huawei plans to follow the P8 line directly, then the P9's screen will be 5.2-inches by diagonal, the P9 lite's will be 5 inches, and the P9 Max's will be as big as 6.8 inches.
Leaked images have confirmed details like a metal chassis and a dual lens camera system on the back of the P9. The 12MP rear snappers will let users change the focal point of pictures after they have been shot and processed. We also know that there's a fingerprint scanner on the rear.
The Huawei P9 is believed to be equipped with the Kirin 950 SoC, containing an octa-core CPU and the Mali-T880 MP4 GPU. A 3900mAh battery is supposedly powering the device, which will offer 32GB of native storage. A USB Type-C connector can be found on the bottom of the unit. As for the P9 Max (or possibly the P9 Plus), we might see it driven by a more powerful Kirin 955 chipset, paired with 4GB of RAM.