HTC EVO 3D receives a much-needed price reduction in the UK
3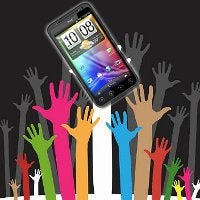 Taking into account that there were zero 3D-enabled smartphones before its release, we all knew that the GSM version of the
HTC EVO 3D
was going to sport a gargantuan price point of some kind – even more at the outright cost as opposed contract form. And when it was pitted against its close sibling in the HTC Sensation, the SIM-free EVO 3D was priced considerably more at over $830 (£500) in the UK.
As with all things over time, we're finally seeing some much-needed price reductions with the 3D-enabled smartphone, making its cost of ownership very easy to handle more than ever. Currently, Expansys cut the price of the SIM-free HTC EVO 3D to only
$441 (£284.99)
with free shipping included with the purchase. Meanwhile, ASDA Direct has it selling for an even better
$387 (£284.99)
– albeit, you'll need to pay a small amount for shipping.
Nevertheless, you can't help but take a look at the device over the HTC Sensation in the UK, where it's selling for approximated $541 (£350). And on top of that, the HTC EVO 3D packs the slightly better specs between the two – and not to mention it has the novelty of a 3D display on board as well.
Sure you can always invest that money on a newer handset of some kind, but when you take into account the reduced price it's flaunting and the hardware it's hiding within is body, the HTC EVO 3D combines great value and solid muscle power – so you can't go wrong siding with it.
source:
Expansys
&
ASDA Direct
via
Android Central