HP Pre 3 gets updated to webOS 2.2.4 to iron out some annoying bugs
6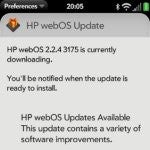 HP Pre 3
are in existence throughout the world, but nevertheless, those fortunate enough to own a piece of webOS history are being treated to a rare software update.
Updating the handset to
webOS 2.2.4
, the maintenance update brings nothing more than some of the customary
bug fixes
to improve its usability. From the sound of it, the new update sizes up at 29MB for
European Pre 3 owners
, 10MB for the AT&T capable one, and 9MB for those who managed to scoop the Verizon one. Also included in the list for the update, are those who sport the unlocked version of the GSM Palm Pre 2.
No, there are no other fancy features found with it, but don't let that stop you from installing this one – and knowing that there is a strong community behind webOS, it's bound to get another update in the future. Of course, it's unknown how webOS will go on as an
open-source mobile platform
, but at least you can rest easy knowing it's getting some love right now in the near term
via
webOS Nation
&
Engadget