Motion Stills 2.0 features dinosaurs and aliens!
7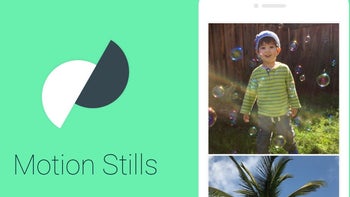 Motion Stills was launched in 2016 for iOS and in 2017 for Android devices
Motion Stills – Google's take at GIF and Live Photos creation – has received its 2.0 update. The latest version brings in some welcome additions, including user interface enhancements, the implementation of AR stickers, which you can apply to your videos and some minor tweaks to the settings menu. Let's take an in-depth look of the newly brought changes:
User interface overhaul
The user interface has undergone some interesting changes. The shoot button and mode selection bar are now placed inside the white bar that used to show the recently created videos. Added is a gallery thumbnail for quick access to your media. Those changes make up for a better, cleaner UI and will definitely improve the experience.


There's a dinosaur in my plate!
The other highlight of 2.0 is undoubtedly the addition of AR stickers. These have finally made their way into Motion Stills after already being part of other Google photographic apps. Present to you is the option to choose between six stickers - a dinosaur, an alien, a chicken, a robot, a planet (seems to be the Earth) and a gingerbread man. You can apply any of those to a video of your choice, making the above mentioned dinosaur-in-a-plate scenario an (alternative) reality! Keep in mind you won't be able to apply more than one sticker to a video, as placing the second will remove the first one. Upcoming are four more stickers - a basketball, a UFO, a parrot and a bat, which have their icons included, but are unavailable for use. We expect them to be added on a later stage.
There's a dinosaur in my plate!
Minor settings improvements
The settings menu got some minor tweaks. You can now check the currently selected mode for "GIF quality" and "Repeat shared clips" quicker – it's now written underneath. Also, the Watermark option is now disabled by default.
After an APK teardown performed by Android Police, it was also found out that the future might hold Facebook Messenger integration for Motion Stills, but it's yet to be officially announced.
Motion Stills 2.0 is expected to be available across all devices relatively soon. If you are not patient enough and own an Android device, you can manually download the update
here
.