Google News updated for Opera Mini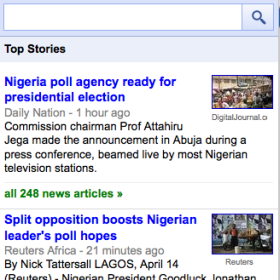 The Google Mobile Blog posted a note today, informing us that they've
improved the Google News site accessed from the Opera Mini browser on feature phones
:
"While the Google News team has been hard at work
redesigning
our service for smartphones, we've also been thinking about our milllions of users around the world who access the web not from a smartphone, but from a feature phone."
The new version of Google News, which has been updated for all 29 languages and 70 versions available, will include a number of improvements:
"an enhanced homepage featuring richer snippets, thumbnail images, links to videos and section content without explicit navigation, a convenient search bar, comfortably spaced links and the ability to access your desktop personalization on your phone"
.
It's nice to know that despite the constantly growing and increasingly lucrative
smartphone market
(Android or otherwise), Google is still working to satisfy feature phone customers. And Google surely understands that these feature phone owners will develop warm fuzzy feelings for Google in general, and be more likely to choose Android when they join the smartphone revolution.
source:
Google Mobile Blog