Gartner survey says 2011 the year of the smartphone, not the tablet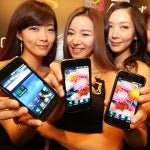 U.S. consumers are looking to buysmartphones in 2011 more than any other type of electronics, a recentsurvey by technology researchers over at Gartner shows. Well, so muchfor the year of the tablet. But with dual-core and quad-corepowerhouses coming out this year, it is one of the fastest growingindustries and we're hardly surprised. Smartphone sales in the Statesare expected to surge to the whopping 95 million units in 2011,up from 67 million smartphones sold in 2010.

Other sectors are growing as well,but the dynamic is much less dramatic – mobile PCs for example areexpected to see sales of 50.9 million units, up from 45.6 millionlast year. In order of intent, Gartner's rankings show that U.S.consumers intent to buy the following electronics:
1. Smartphone
2. Laptop
3. Desktop PC
4. Mobile handset (other thansmartphone)
5. E-book reader
6. Media tablet
It's notable that even dumbphones rankpretty high, contrary to some people's belief that dumbphones will begradually replaced by smartphones. People don't always do what theysay in surveys, but nevertheless this is an interesting angle to lookat all the hype around tablets and how it compares to smartphones.But with such fierce competition unveiling on all fronts, we are surethat 2011 will bring heaps of innovative products.
source: Digitimes