Google Latitude for Android adds new check-in feature
2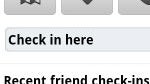 Always stretching their hands to other specialized categories, Google's latest foray dives head first into a segment of the mobile industry that's currently dominated by the likes of Foursquare.
With the latest version of
Google Maps 5.1
, it brings forth the beloved ability for Google Latitude users to
"check in"
to specific locations or businesses. So if you just happen to love telling your friends, and even strangers where you're at, then you'll find this new feature will very appreciative since it does just that.
Previously, Google Latitude users were only limited to showing their location to their friends, but now that you can check in to a specific venue, other users can look at that particular place to find who is or has been there recently. And instead of being awarded badges for checking into a specific spot constantly, you'll simply earn a variety of statuses for that venue – like being a regular, VIP, or guru.
So be sure to check out the video to find out what else new with it.
source:
Google Mobile Blog