Garmin nuvifone – iPhone like GPS phone
3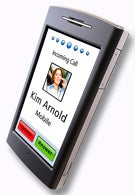 Garmin just announced its first phone, the nuvifone. By its design (3.5" large touch display and no hardware keys), the new device definitely reminds us of the iPhone, but unlike the Apple's child, this one is a GPS-phone, instead of an iPod-phone, as this is what Garmin does.
Unlike most other GPS-capable phones, the nuvi will try to compete with stand-alone devices, preloaded with maps for North America, Eastern and Western Europe, or both. Turn-by-turn, voice-prompted navigation comes standard and so does the database with millions of points of interest. In addition to the latter, the nuvifone is Garmin's first device which can use Google's local search capability for more advanced WEB search of POI, showing results based on the user's location.
Additional GPS-based features include the "Where am I?", which displays exact coordinates, as well as nearest "address and intersection, and the closest hospitals, police stations and gas stations ." Drivers should find their cars easier in the crowded parking, as the nuvifone will mark the position at which it is detached from the vehicle mount.
As it can be expected, the nuvifone is not only a GPS-device, but will also be usable just as any other phone. Garmin doesn't provide information about, which GSM bands are supported, but we hope it will be quad-band, for global roaming. It also has HSDPA support, but yet there isn't information on that either. The nuvifone will be advertised as an easy to use device, with user-friendly interface and large colorful buttons on the touch display. It will have full HTML Internet browser which looks promising from the press photos, instant messenger, camera, and multimedia player. Many of its features will be enhanced with GPS options, such as tagging the location at which a photo is taken.
Garmin claims that the nuvifone will be available in the third quarter of the year. Information about pricing and availability is expected in the future.
source:
Garmin