Galaxy Run arrives at iTunes, promises lots of intergalactic jump'n'run fun
5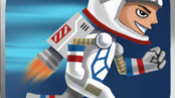 If you have played the original arcade version of Prince of Persia, you may find Galaxy Run quite similar to the classic title in terms of gameplay. But while in Prince of Persia you have to avoid deadly traps in ancient Persia, the setting of Galaxy Run is quite futuristic. Developed by Spiel Studios, the game features an astronaut in distress, whose spaceship chrashed on a barren planet. The astronaut, Rez, has to jump from a platform to platform and avoid a lot of deadly obstacles in order to get home.
The levels consist of different platforms, traps and objects, which might either help or obstruct Rez in his quest to go home. The controls of the jump'n'run game are simple – a single tap makes Rez run, while a second tap makes him jump over the deadly gaps between the platforms. There are lots of various power ups which help the austronaut complete the levels, such as faster running and teleporting portals. You'll most likely need these powerups, because the game consists of more than 350 normal and 90 extreme levels.
Apart from the engaging gameplay, Galaxy Run features a catchy soundtrack (which can be heard in the trailer below) and takes full advantage of the Retina Display of the compatible iOS devices. The game requires iOS 4.3 or later and will cost you $0.99 to download and play.
Download: Galaxy Run (
iOS
)