Galaxy Note 3 users on T-Mobile receive KitKat update, see all the changes detailed by Samsung
15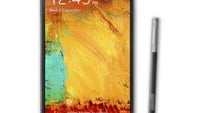 According to reports from SamsungGalaxy Note 3 owners on T-Mobile, their phablets have begun receiving anupdate to Android 4.4.2 KitKat. Weighing in at a hefty 495MB, theupdate will bring features from the latest Android version to Note 3users, in addition to tweaks and various changes.
For starters, Galaxy Gear owners will have to update Gear Manager to version 1.6 to make it compatible with their Note 3. Music album art will be displayed on the lock-screen. Location services are integrated in a new location menu. Wireless printing support is added. New Emoji icons are available, and the option to switch between Messages and Hangouts as your default messaging app is now included.
That's just the tip of the iceberg. For the most curious of you, Samsung'sofficial Customer Consultant Guide for the Galaxy Note 3 Android4.4.2 update details all the changes that are in tow. Most of themaren't immediately obvious, but with this guide in hand, webelieve you'll have a lot of fun discovering them for yourself.
via AndroidCentral