Fancy infographic explains why the new iPhones don't have sapphire glass
32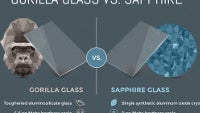 Towards the end of 2013, Apple signed a deal with GT Advanced Technologies that would see the former advance over half a billion bucks to the later, to be repaid over five years, beginning in 2015. Why? In order to accelerate the latter's progress in constructing a state-of-the-art production facility that will allow sapphire glass to be produced in mass quantities and cheaply.
As you can imagine, many construed that to mean that Apple is thinking of switching towards the extremely tough glass (tougher than Gorilla Glass) with the new iPhones. Now that the iPhone 6 and iPhone 6 Plus are a reality, however, it's obvious that we're not quite there yet, and Apple has instead used an ion-strengthened glass. There are a bunch of good reasons as to why that is, outlined in an attractive infographic, courtsey of
VisualCapitalist
. Take a peek at the gallery below to find out what those are, and
check out our write-up on sapphire and how it compares with Corning's dominant Gorilla Glass
.