Facebook Messenger's free video calling feature expands; now available in most countries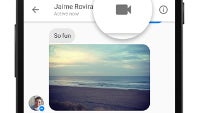 Facebook has continually sought to separate its Messenger app from the rest of the social networking experience. This began a few years ago with the introduction of the standalone Messenger app, which has since been the subject of many feature updates and enhancements. Among them was the recent addition of
free video calling
, which, when rolled out back in late April, was limited to 18 countries. Today, though, most of the gaps have been filled, with Facebook's VP of messaging products sharing that video chat is now a global thing, aside from "a few exceptions,"
The IM game is a crowded market occupied by a series of different brands and services. In much of Asia, the likes of WeChat and Viber dominate proceedings, but Apple's iMessage, Microsoft's Skype, Facebook Messenger and, of course, the Facebook-owned WhatsApp, also command a large share of the spoils.
Indeed, this move to add free calling to Messenger's repertoire seems a thinly-veiled attempt to court users of products like Skype. Since the Facebook network commands an active user base well in excess of one billion -- 600 million of whom apparently use Messenger -- the Windows maker may well look over its shoulder at what Mark Zuckerberg and his Menlo Park firm have plotted here.
The iOS and Android apps are both compatible with video calling, along with the Web version. The first run of the new video chat feature covered a number of nations including the U.S., Canada, France and the U.K., but as per an update from Facebook's messaging products chief David Marcus, virtually everybody should now be able to join in:
We're happy to share we've now rolled out the capability globally, with the exception of a few countries we're still working on improving quality for. So make sure you get the latest and greatest version for iOS and Android, give it a try, and as always... tell us how we can make it even better for you!
According to comments made to the above post on Marcus' page, those in Egypt, Saudi Arabia and Bahrain may still not yet be able to utilize this feature, and there may be other exceptions besides.
The latest versions of Messenger for Android and iOS are supplied below, so check the feature out if you haven't already, and let us know what you think of the video calling feature via the comments.