Evolutionary changes - how 2015's Android flagships pushed innovation without being revolutionary
25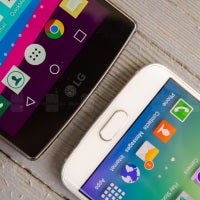 As if it were yesterday when we wished you a Merry Christmas and Happy New Year. Yet, we look around and it's May already! In four short months, we ended up in a pile of flagship Android smartphones! No amount of industry analysts parroting the "high-end market saturation" mantra could keep the likes of Samsung, LG, HTC, Huawei, Sony & Xiaomi from merrily unveiling their proudest handsets to date - weeks, days, heck - mere hours after each other!
By now, the entire crop of first half 2015 flagships has been reaped, and we're already peeking into what the second half may have in store. But this article isn't about predicting the future on the slippery basis of leaks. We're docked in the present, doing a quick tour of 2015's flagship Android smartphones and discussing the design, technology, and user experience tendencies they exhibit. The devices in question? Here they are:
Design - evolutionary vs revolutionary
With the exception of the Samsung Galaxy S6 & S6
edge
, and the Mi Note Pro — these are new designs from said companies, even if they resemble some well-known devices to an extent — 2015's Android flagships look largely the same as their last-year counterparts. As looks form a huge chunk of the first impression we get from anything in sight, many seemed rather disappointed with the HTC One M9, LG G4, Xperia Z4, and Huawei P8 already - just minutes after their announcements! But the truth is you got the wrong impression. Subtle design improvements tend to be perceived as the outcome of stagnation, laziness, and lack of inspiration, but the reality has much less to do with creative struggles, and more with practical considerations.
the "weird Nokia" era
. How did that turn out? Pretty poorly! See, instead of building iconic designs and adjusting its product development trajectory for the future market, Nokia aimlessly unleashed change, after change, after change - from its self-indulgent designers' heads, straight onto unsuspecting customers. Those phones delivered on novelty, but they didn't work very well. They also didn't build the desired brand identity for Nokia — they built the "weird Nokia" — and they are remembered as oddities, not successes. Few years down the road, we all know what ultimately happened to Nokia.
Hence, manufacturers mostly stick to evolutionary design. It works for them, as it executes their goals in an efficient, controlled matter. And it works for customers - almost nothing that's redundant, awkward, and otherwise unappealing makes it into their hands. That's not to say revolutionary design doesn't make sense! It totally does, but not on a yearly schedule. Indeed, this risky approach is very dependent on timing. It's a game of turning experimental technologies into market-ready products, while keeping watch on what the competition is doing. You don't want to peddle unfinished tech to customers, but you also want to move faster than your opponents. Seems complicated, right? So don't be mad at HTC, or LG, or Sony for sticking to evolutionary design - they'll make radical change happen when the time is right, and in the meantime, what we already have from them is still very good!
Display - the QHD debate rages on
Of the 6 flagships we've gone over, half have Quad-HD 1440p resolution screens, and the other keep holding on to 1080p resolution. It looks like LG's effort to push a QHD smartphone ahead of the competition was probably justified, as those crazy sharp displays were destined to become a common — but not yet essential — staple of a high-end spec sheet.
Although the industry's answer to the LG G3's display was clear enough — high-profile QHD devices like the
Samsung Galaxy Note 4
and Meizu MX4 Pro shipped just a few months after — it seems not all major vendors are eager to accept 2K as the high-end status quo just yet. Sony, Huawei, and HTC quickly dismissed 2K resolution screens, arguing they don't bring meaningful image quality improvements to small displays. Hence, they stuck with 1080p, and it's hard to call it a short-sighted decision. Is anyone insisting on a 2K display over a 1080p screen? Maybe, but certainly not to the same extent of preferring 1080p screens over 540x960 screens, for example.
People seem to love
how those curves tastefully contribute to the GS6 edge's futuristic look! Additionally, the giant improved its OLED screens' color reproduction and brightness properties even further. There's still something to be desired from viewing angles, though - the Galaxy S6's screen goes a little blue when you rotate it.
less power hungry
than the LG G3's screen. This means the end result is, ultimately, dependent on what the manufacturer makes out of the technology, not on the tech itself.
So far, we've had great stuff to talk about, but our heads start spinning when we take a peek into the future! Sharp couldn't contain itself any longer - it announced a 5.5-inch IGZO display with a 2160x3840 (4K) resolution. The panel is scheduled for mass production in 2016, and comes with a mind-boggling
pixel
density of 806 pixels per inch! Meanwhile, rumors say Samsung is ready to wheel out the 4K resolution AMOLED screens as early as September this year with the Galaxy Note 5 - in both flat-screen and curved variants. It's only 2015, and Quad-HD displays already sound mid-range!
User experience - new Material order
Performance - Samsung snaps the dragon's neck
the Exynos 7420
— fashioned out of eight ARM 64-bit CPU cores and a Mali-T760 GPU. Feeling lucky, Samsung also doubled down on its memory efforts, and not only it shipped
mobile LPDDR4 RAM modules
, but outed a first of its kind mobile
UFS 2.0 flash storage
as well! The latter is exclusive to the Galaxy S6 & S6 edge, and has proven itself capable of outrageous speeds - both in benchmarks and actual use. App load times and slow video compression are nearly a thing of the past now.
due to overheating
. So Snapdragon 810 takers essentially got a really good GPU, the Adreno 430, paired with a sedated CPU that requires
serious performance capping
, or
a specially prepared cooling system
to keep up with the job. It was a particularly bad time for the American chip maker to ship a flawed product, while Samsung's competition had become so strong! But knowing Qualcomm, the company will recover pretty quickly. Word on the street is that
Q-com will tap into Samsung's cutting-edge 14nm fabrication process
for future Snapdragon chips. However, the question of when UFS 2.0 storage - a key performance ingredient - will reach non-Samsung products, is still up in the air.
tamed Snapdragon 810
with slower graphics, and with two of its processing cores and LPDDR4 RAM support chopped off in order to make an upper mid-range category chip. While it cannot escalate the LG G4's performance to SD 810 or Exynos 7420 levels, the 808 will provide adequate horsepower for the majority of users. As for
the Kirin 930
, it continues Huawei/HiSilicon's pattern of making nicely put together chipsets that keep up with basic tasks, but
struggle with intense 3D graphics
. Hence, the Huawei P8 lags behind the Samsung Galaxy S6 and HTC One M9, which should be considered a weakness, as the handset is priced on the same $600+ level.
If there's a tendency to be discussed here, it has to be the hasty switch to 64-bit processing. Throughout the second half of 2014 and the first half of 2015, mobile chipsets across all price ranges hastily switched to the new standard to even the odds with Apple's chips. This left Samsung and Qualcomm with no time to ship custom CPU cores, hence both silicon slingers had to make the best out of stock ARM Cortex-A53 and A57 designs. Now that the top-priority task of supplying 64-bit flagship silicon to smartphone makers has been taken care of, the two will return to custom core designs as soon as possible. Samsung is already testing a new CPU architecture —
"Mongoose"
— with the possible goal of packing it into the Samsung
Galaxy S7
, while Qualcomm's upcoming Snapdragon 820 CPU will ship with
custom "Kryo" cores
.
10-core mobile CPU, the MT6797
. It takes full advantage of ARM's 64-bit cores by stuffing them into a TINY.Medium.huge configuration. This means there's a "tiny" tier of four economical Cortex-A53 cores running at up to 1.4GHz that handle basic tasks, a "medium" tier of four Cortex-A57 cores running at up to 2GHz for heavy pushing, and the "huge" tier – a duo of intense Cortex-A72 cores, which scale up to 2.5GHz. That elusive "too many cores!" factor apart, the MT6797 looks like an early step into the future. Hopefully, it will have the graphics horsepower to match!
Camera - the new arms race
iPhone 6
in most scenarios. However, the camera is prone to soaking in more light than needed, resulting in some unnatural-looking night shots.
And as for Xiaomi and Sony - we'd love to tell you more, but those guys didn't bring any new camera technology to the table. They rely on proven components that deliver good, but not exceptional results. It's also hard to tell what the mobile photography future holds, apart from incremental improvements in photo quality and camera sensor size.
Conclusion
If we put aside the evolution tempo slowing down, and the performance problems imposed by the temperamental Snapdragon 810, we think 2015 has been pretty good for Android smartphones so far. Manufacturers have found their ways to give us even more improved technology for the same kind of money they asked a year ago. Challenging itself to recover from a year of weak sales, Samsung ended up producing its best Android devices to date. LG, HTC, and Huawei worked out better display and camera technologies, in addition to subtly refining their distinct smartphone designs. Unfortunately, Sony is yet to announce the Xperia Z4 for any market not called Japan, while Xiaomi is still far away from bringing its devices to the US. But as a whole, it's hard to complain as an Android user these days. Bring on the future, we say!