Snapdragon 810's heat issues might be of Qualcomm's own making
37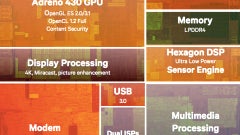 Samsung might have been wise to go with its own 14nm Exynos for the
Galaxy S6
not only for business reasons - using its own superior SoC to save on the bill of materials - but also because of reports that the first batches of Qualcomm's Snapdragon 810 could not keep their cool the way the TSMC foundry was producing them.
Qualcomm went on a PR offensive after the reports, which is extremely rare for the company, touting the Snapdragon 810 virtues with
LG, Sony, Motorola
and others all lining up behind the chip maker, saying that they will all use the powerful silicon in their upcoming flagships. Reports poured in that the overheating issues are overcome, but the
HTC One M9
ships with the silicon, and
it heated up quite a bit
before the company issued a massive update that managed throttling, among other things.
For all the blame that goes to the
TSMC foundry
, and its 20nm production process, which was allegedly fast-tracked precisely to score the Snapdragon 810 orders, it might turn out that Qualcomm brought it all on itself. The die shrink from 28nm to 20nm for TSMC, and from 20nm to 14nm for Samsung, has brought on the respective increase in density, but nothing out of the ordinary that hasn't been done before, and Samsung has even gone down further without major issues. In the meantime, with all the superior production processes unveiled, and the move to 64-bit architecture, Qualcomm has been dragging its feet on a thorough overhaul of its pipeline, despite that ARM announced the current design blueprints a couple of years ago.
This leaves the Snapdragon's project management to blame for the 810 issues, it seems, with its rush to out a stop-gap solution until the
820
with a custom
Kryo
core hits the market. Moreover, it is inferred that the powerful Adreno GPU that is Qualcomm's own design, isn't playing nice with the stock ARM cores, thus causing the whole SoC to overheat under pressure. In any case, these issues are hopefully behind Qualcomm, though it remains to be seen if
tomorrow's LG G4 announcement
reveals a
Snapdragon 808
or 810 chipset inside, and gauge whether the chip giant has lost another major customer for the troubled 810 brainchild.
Recommended Stories