AndroBench comparison - the Samsung Galaxy S6 & S6 Edge's memory speeds obliterate other flagships
86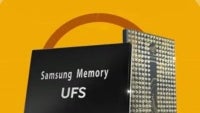 For the Galaxy S6 and S6 edge,
Samsung brought forth UFS 2.0
. Think of UFS 2.0 as the next big thing for mobile devices after the ubiquitous eMMC standard found in all devices operating with NAND flash memory. UFS has up to four times faster data transfer speeds. For example,
eMMC 5.1
- the standard's latest version - achieves transfer speeds of up to 250MB/s (read) and 125MB/s (write). The older eMMC 5.0 standard is no slouch either, and is found in most top-end handsets powered by Snapdragon 801 chipsets and above. That's impressive enough, but UFS 2.0 HS-G2 goes up to 725MB/s, and HS-G3 has a peak speed of 1.45GB/s. Woah!
Additionally, unlike eMMC, UFS allows for simultaneous read/write processes, and prioritizes incoming commands as to execute them as quickly as possible. Speed improvement aside, this gives it an additional edge over good old eMMC. And while UFS 2.0 is more energy-consuming compared to the frugal eMMC, it makes up for this by getting stuff done and going to sleep quicker! Outta boy.

The introduction of UFS 2.0 memory to Samsung's high-end mobile devices - at the time, we could only speculate it was the Galaxy S6 and Galaxy S6 edge - certainly piqued our interest. There was no way those speed improvements we spoke of above wouldn't impact their performance across all usage scenarios - especially when it comes down to app and file load times! Thankfully, at MWC 2015, we managed to put a pre-release Galaxy S6 edge unit through the AndroBench memory speed benchmark test to hunt down any measurable improvements. It's certainly the right tool for the job, seeing that it's able to measure random and sequential read and write memory access speeds. What does that stand for as a performance metric?
You've never seen anything like this in a smartphone!
Now, the truth is that when it comes to flash memory, the concept of random and sequential reads/writes doesn't really apply, because it comes from the world of hard disk drives. But just so you get the general gist of it - in random read and write operations, blocks of data aren't written in neat, organized clusters, but randomly spread all over the disk space. This is usually the case with most user applications, and in hard disk drives, it results in a reduced data throughput. That's because it involves lots of spinning of physical plates and a hard drive head rushing to get to the correct chunks of data in time, introducing latency - the original performance killer.
Sequential read and write speeds are important in regards to accessing and storing large files (such as high-resolution multimedia content). Single large files tend to be stored in uniform clusters of data on a singular region of disk space, in easy to follow sequences. Thus, even though flash memory doesn't really care how data is arranged, good sequential read and write speeds means nice performance in file operations. And with those hi-res video files and losless music taking up sizeable chunks of our mobile devices' disk space, it goes without saying that sequential read and write speeds matter.
With all that into account, let's see how Samsung's flagship smartphones compare with the best of last year's technology in terms of memory performance. Looking at the impressive results posted by the former, it seems Samsung wasn't joking at all when it rallied about the Galaxy S6 & S6 edge's memory speeds. You've never seen anything like this in a smartphone! Unfortunately, it will be a while before UFS 2.0 memory reaches to mid and low-end tier devices, because right now, it's rather expensive to produce and is, thus, going to be a feature of flagship products.
Recommended Stories