The secret of Snapdragon 810 keeping cool? 50 shades of thermal throttling on the G Flex 2
36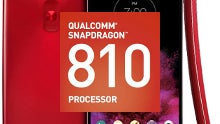 Samsung might have been wise to go with its own 14nm Exynos for the
Galaxy S6
not only for business reasons - using its own superior SoC - but also because of reports that the first batches of Qualcomm's Snapdragon 810 could not keep their cool the way the TSMC foundry was producing them.
The thing is that all those benchmarks and temperature measurements we saw recently are done on Qualcomm's reference Snapdragon 810 platform, which is a thick pieces of a slab, not on a thin retail flagship where heat matters. Well, there is only one of those on the market with Qualcomm's first Snapdragon 810 batch inside - the
LG G Flex 2
- and someone decided to run the cross-platform Geekbench on the handset to see what will happen. Here's what happened from the first to the ninth run of the test:
1. 1215 / 3683, 2. 1112 / 3249, 3. 895 / 2931, 4. 672 / 2414, 5. 692 / 2465, 6. 675 / 2421, 7. 663 / 2356, 8. 617 / 2263, 9. 558 / 2065
As you can see, thermal throttling of the processor speed kicked in as soon as the second pass, while at the last try the single core result went down in half, and the multicore mark diminished more than 30% in order to prevent overheating, which wouldn't bode well for gaming and other strenuous processing activities on the thin curved handset, if all units are like that.