LG G4 benchmarked - how does the Snapdragon 808 fare?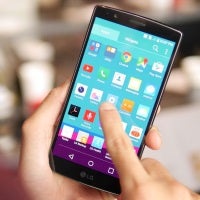 It's time to satisfy your curiosity about the newly announced LG G4's benchmark performance! The smartphone's announcement had us very interested in it too, as the LG G4 ships with an unorthodox spec sheet that sees the hexa-core Qualcomm Snadpragon 808 CPU, Adreno 418 GPU, and 3GB of LPDDR3 ram as its central pillars. No other smartphone that's currently on the market has the same configuration.
In the first quarter of 2015, the Android competition has adopted four options. Camp Samsung uses its own Exynos 7420 chip paired with the ARM Mali T760 GPU. Camps HTC, Sony, and Xiaomi choose the Snapdragon 810 SoC and its advanced Adreno 430 GPU. And on the eastern front, there are the Meizu and Huawei camps, which rely upon the MediaTek MT6595 (PowerVR G6200MP4) and HiSilicon Kirin 930 (Mali -T628 GPU), respectively. Where does the LG G4 and its Snapdragon 808 position itself in this challenging landscape? And more importantly, does it deliver the expected flagship performance? Let's examine the benchmark results and find out!
Of course, one should be fully aware that synthetic benchmarks measure performance in pre-calculated tasks and scenarios, and are therefore not fully representative of normal everyday usage performance. What they do is form an accurate impression of how different smartphones and their specific hardware components handle themselves under intense load. Trying to assess normal usage performance via tests is not only impossible due to the subjective nature of the "normal usage" term, but it doesn't make much sense either. See, even the low and mid-range Android phones of today have the essential, basic tasks covered. We need to look beyond that to truly see what a smartphone is capable of, and that's where the benchmarks come in.
CPU Performance
A53
cores modified by Huawei, while the MT6595 uses power-efficient Cortex A17 and A7 cores. Still, it has to be noted that both processors are designed as upper mid-range products, rather than flagship solutions. Hence, their performance is fair, but it illustrates a significant gap between "upper mid range performance" and "flagship performance". One would expect this gap to be narrower today, no?
3D Performance
Galaxy Note 4
and its Snapdragon 805 SoC in the 3D performance tests AnTuTu and GFXBench. That's a disappointing turnout for a 2015 flagship smartphone, but it can be easily explained. Hot-headed it is, but the Snapdragon 810, which spearheads the 3D performance benchmarks, has a killer graphics unit - the Adreno 430. It reaches more than double the 3D performance of the LG G4's lowlier Adreno 418 GPU in the GFXBench rendering tests. The Adreno 430 even outguns the Mali T760 found in the Galaxy S6 & S6 edge's Exynos 7420 CPU, while Huawei and Meizu's upper mid-range solutions finish after the LG G4's Adreno 418, which is already behind the Snapdragon 805's Adreno 420 GPU (as measured in the Samsung Galaxy Note 4). However, it has to be considered that the Adreno 430 in the HTC One M9 is powering a 1080p display, which means it doesn't need to deal with as many pixels as a 2K resolution device, such as the LG G4, would have to. We'd assume that the odds would be evened out to an extent, if the Adreno 430 were to handle a QHD screen.
System performance
edge
.
Conclusion
All things considered, the LG G4 can be identified as an upper mid-range smartphone that incorporates flagship display and camera technologies. What does that mean in practical terms? We believe the most noticeable performance impact will be felt in heavy 3D gaming and 4K video recording scenarios, where the LG G4's "not quite there" graphics unit and older memory technology won't be able to deliver consistently smooth, effortless performance. To the strictly specs-minded buyer, the LG G4 probably doesn't seem like a good proposition in comparison to the Galaxy S6 edge at the high-end price point, or to Chinese "affordable flagships" at the low and mid-price point. But if we look at the vast majority of customers, the ones who are mostly after attractive design, a bright colorful display, and a solid camera, we think the LG G4 has what it takes to win their attention.