Revised Snapdragon 810 boasts performance and thermal improvements in Xiaomi Mi Note Pro benchmarks
34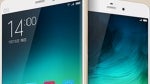 It looks like a new twist to the Snapdragon 810's troubled story is about to form, leading to a happier outcome for Qualcomm's short-tempered SoC. Apparently, the Xiaomi Mi Note Pro, which the Chinese vendor
announced in January
and launched in China today, has been outfitted with a revised version of the SoC and better heat dissipation system. Thus, the Mi Note Pro exhibits much better performance and thermal management than what we've seen from other Snapdragon 810-powered smartphones.
Being referred to as the Snapdragon 810 v2.1, the chip scores an impressive 63,424 points in the AnTuTu benchmark, which is well above what the SD810-powered
HTC One M9
and
LG G Flex 2
achieved. It is also in the 60,000+ points ballpark of Samsung's Exynos 7420 SoC powering the GS6 & GS6 edge. The revised Snapdragon 810's result is impressive, considering it has to power a Quad-HD resolution smartphone. It scored higher than the One M9 and G Flex 2, despite their 1080p screens and the lesser pixel pushing involved. The performance increase is most likely attributed to better clock speed and thermal management - the chipset doesn't throttle so aggressively and gets to show more of its full potential.
Xiaomi CEO Lei Jun claims the company sent 20 of its research and development engineers to Qualcomm's HQ, with employees on both sides spending "a lot of energy" to improve the Snapdragon 810. He also showed how the Xiaomi Mi Note Pro keeps a reasonable operating temperature of just 36.3 degrees Celsius (97.3 F) in 20 minutes of gaming. This, however, is achieved with a more efficient heat dissipation system, developed specifically for the Mi Note Pro. The smartphone packs four graphite cooling fins, one of them being double-layered.
The Mi Note Pro is the Chinese smartphone maker's flagship product this year. In addition to top-shelf Qualcomm silicon, it offers a 5.7-inch 2K display, 4GB of LPPDR4 RAM, dedicated audio amplifiers, a 13MP camera, and a 3090mAh battery. The superphone launched in China today, carrying a $483 price tag - a bargain by universal standards, but surprisingly expensive for Xiaomi. Then again, the price is justified, considering what this beast offers to power users.
source:
Weibo
,
G For Games
,
MIUI