Samsung bows to demand, taps third factory to make curved screens for the Galaxy S6 edge
21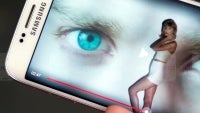 Two months in advance from a planned July launch, Samsung has opened a third factory to meet demand for the Galaxy S6 edge, Bloomberg reports. After underestimating the customer attention its curved screen flagship smartphone could generate, Samsung saw itself unable to make enough units for the masses. The good news is, if you've been unable to grab ahold of a Galaxy S6 edge, Samsung's new A3 production line is probably making one for you right now. The establishment enables an increased monthly output of about 5 million units, up from previously achieved 2 million units. Reportedly, Samsung expects to sell more than 70 million Galaxy S6 & S6 edge units.
As of now, Samsung owns three plants that produce OLED displays. At least two of them are in the vicinity of South Korean capital Seoul. 85% of the display business is owned by Samsung Electronics, while the other 15% is held by Samsung Display. In addition to the displays, Samsung makes the chipsets, memory modules, and modems for its mobile products in-house. The Galaxy S6 edge's
estimated bill of materials
is $290 per unit, which makes it the most expensive smartphone Samsung has produced.
No images
source:
Bloomberg