4GB RAM smartphones and tablets are coming! Samsung ups its memory module game to 4GB LPDDR4, available early 2015
52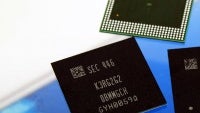 It's official, dear readers - we're entering the age of mobile devices that have as much random access memory as the average laptop nowadays! Samsung just announced it has begun mass production of the industry's first 4 Gigabyte LPDDR4 mobile DRAM modules for smartphones and tablets. They are built on the company's 20nm process technology and offer an input/output data rate of up to 3200Mbps (megabits per second), along with UHD video recording and playback, continuous shooting of high-res images over 20MP resolution, and up to 40% lower power consumption compared to LPDDR3 units. The power savings are eligible for all LPDDR4 modules, so 2GB and 3GB RAM devices are getting the goods too.
Samsung is already selling 2GB and 3GB LPDDR4 RAM modules to global application processor vendors and mobile device makers, which means tomorrow's smartphones and tabs will be treated to cutting-edge RAM memory. As for those 4GB chips, Samsung expects they will become market-ready in early 2015. So it looks like it's time to place the bets - is the 4GB module going in the Samsung Galaxy S6 or the Galaxy Note 5? Heck, why not both?
Additionally, there's this interesting quote fom Samsung's VP of Memory sales & Marketing, Joo Sun Choi:
"By initiating production of 20nm 8Gb LPDDR4, which is even faster than the DRAM for PCs and servers and consumes much less energy, we are contributing to the timely launch of UHD, large-screen flagship mobile devices."
Are 4K smartphones coming already? To be honest, we believe tablets will be the first to utilize ultra high definition because it makes more sense - their displays are sufficiently larger. But if Samsung wants to cram such an ungodly amount of pixels on your 5-or 6-incher, who's there to stop it?