Snapdragon 820 unveiled: coming with Kryo CPU, Qualcomm's first custom 64-bit core
49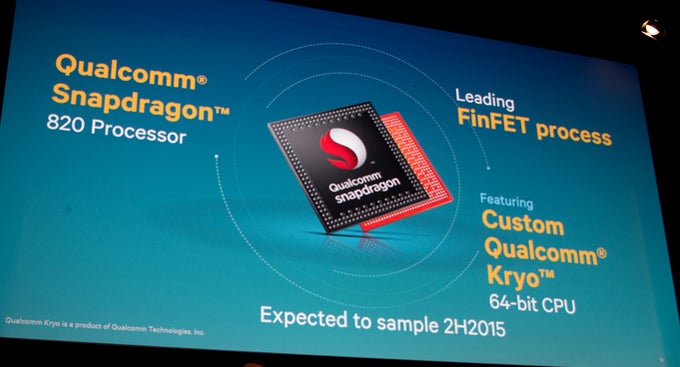 The Qualcomm Snapdragon 820 system chip has just broken cover at the company's keynote at Mobile World Congress 2015. This is the newest flagship chip from Qualcomm and we expect it to power a bunch of high-profile Android and Windows Phone devices when it becomes available.
The Snapdragon 820 introduces us to the first 64-bit custom Qualcomm CPU core called Kryo, and the whole chip will be built using the non-planar FinFET architecture, meaning that we have TSMC's 16nm and Samsung's 14nm fabs as the candidates to manufacture it.
The new system chip is also the first of a new platform called Zeroth.
The Snapdragon 820 is expected to sample in the second half of 2015. Unfortunately, these are the only details we have for the time being, but do stay tuned as we will visit Qualcomm's booth and try to learn more details about the upcoming chip.
Recommended Stories